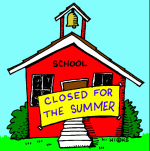 School has now finished for students.  The office will be open July 4-7th from 9:30-2:30pm, and then closed for the summer.  The office will re-open on Monday, August 28th at 9:00am.
The first day of school will be Tuesday, September 5, 2017.  Students will be in attendance from 8:45-11:45am, for a half day.  Students will report to their classrooms from the 2016/2017 school year.
New Students who are registered, and accepted, will report to the library, and then will be placed in an age appropriate class.  Students registering for the first time should report to the office and register.
Students will remain in these classes for the first few days while classes are formed, and enrollment is confirmed.  We appreciate your patience as we prepare for a successful start to the school year.
Kindergarten students do not begin until Friday, September 8th, with Gradual Entry.  The first full day of attendance for our youngest learners will be Wednesday, September 13, 2017.
Wishart Staff's wish is for our students and families to have a safe and enjoyable summer, whether that is on your travels or at home.
Should there be any questions, I will be checking my email from time to time, gmanhas@sd62.bc.ca.
All the best,
Garry